Save

$

81.00!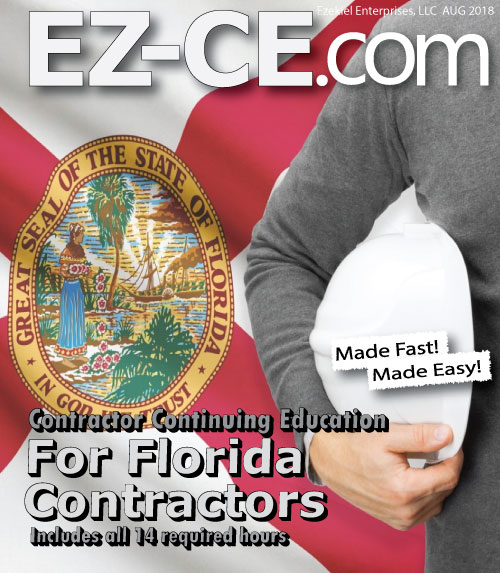 14 Hour Florida Contractor Continuing Education Course
Students Completed: 1476
This Course satisfies all 14 Hours of Continuing Education required for Florida Registered Contractors, Certified Contractors, & Pinellas County Contractors
Consists of Approved CILB Courses No. 0611784 & 0611875 
13 Hour Contractor Continuing Education Course (#0611784)

1 Hour 2014 Advanced FBC Significant Code Changes (#0611875)
Records will be Electronically Submitted to the DBPR within 48 hours
Course Description
This course covers the required topics and hours of continuing education required for registered and certified contractors specified in F.A.C 61G4-18.001 (2a-2f), listed below.
Specialized or advanced module course approved by the Florida Building Commission
Workplace safety;
Business practices;
Workers' compensation;
Laws and rules regulating the construction industry;
Wind mitigation methodologies.
The remaining hours of the course covers topics stated in F.A.C 61G4-18.001 (3). This includes business practices and workplace safety.
This course consists of 10 video lessons covering topics as stated below. Note: Each hour of instruction is 50 minutes.
Module 1: Florida Laws & Rules-Recent Changes: 1 Hour
Module 2: Florida Workers Compensation System: 2.5 Hours
Module 3: Business Practices for Construction Contracting: 2.5 Hours
Module 4: Wind Mitigation Methods: 1 Hour
Module 5: Workplace Safety – Construction Fall Protection: 1 Hour
Module 6: Workplace Safety – Silica Exposure in Construction: 1 Hour
Module 7: Workplace Safety-Nail Gun Safety: 1 Hour
Module 8: Guide to Government Contracting: 2 Hours
Module 9: Tax Guidelines for Construction Businesses: 1 Hour
Module 10: 2014 Advanced FBC Significant Changes: 1 Hour
Finish your License Renewal Quickly and Efficiently…
…Using your phone, tablet, or computer
Just Two Steps to Complete
1. Review each of the Course Modules
Review any of the 10 course modules anytime, at any pace and even out of sequence

Just select any module lesson, review/read the timed lesson, and Click Complete

Its that simple! Come back anytime to complete more lessons
2. Complete each Module Quiz
Guaranteed to pass as you can retake each quiz unlimited times until you pass

+ Plus access entire course during each quiz to easily locate answers
Course is completed once all modules and quizzes are completed. A Certificate of Completion is auto-generated
Your records are then electronically submitted to DBPR within 24 hours. (Additionally, your records can be accessed anytime on your account as we retain all student records for 7 years)
---
Professional Staff and Support
Help? Questions? Concerns?
24/7 Email Support* and 9 to 5 Mon-Fri Phone Support
---
Money Back Guarantee
If you are unsatisfied for any reason while taking this course, full refund will be provided
---
Our Mission…
Simple! To give Florida Contractors the Most Efficient and Cost-Effective Means possible to complete their continuing education requirements
---
What is Florida contractor continuing education?
What can Florida DBPR continuing education do for you?
Its Florida license renewal time, now what?
• Florida Construction Industry Licensing Board (CLIB)
What is a CEH?
A CEH is a continuing education hour. It is equivalent to one professional development hours. So 1 CEH is 50 minutes hours of educational instruction. For our courses we prefer to use the term professional development hour of more commonly referred as PDH.